Branding & Graphic Design
Inspiring Designs and Strategic Branding Solutions
Ignite your brand's visual identity with our captivating graphic design and branding solutions. Our creative experts combine artistic excellence and strategic thinking to craft designs that leave a lasting impression and connect with your target audience.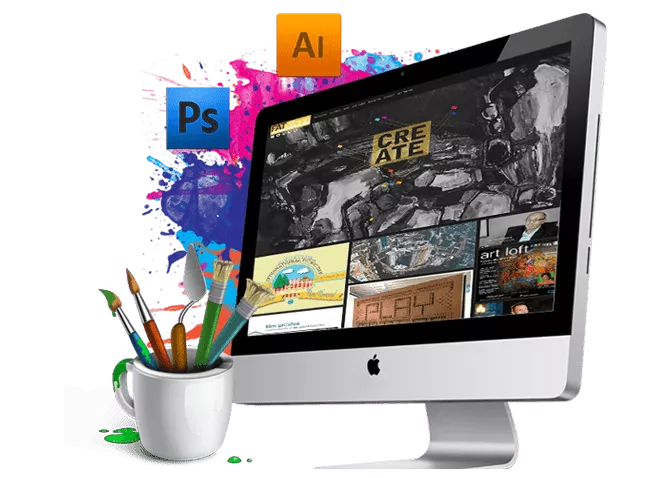 I am delighted to present our top-notch branding and graphic design services. Our team of talented designers and branding experts are dedicated to helping businesses establish a strong visual identity and create impactful brand experiences.
In the first phase of our process, we dive deep into understanding your business, target audience, and goals. This allows us to develop a comprehensive brand strategy that forms the foundation for all our design work. From crafting memorable logos and brand guidelines to designing eye-catching marketing materials, we ensure that every element aligns with your brand's essence and effectively communicates your message.
Our experienced graphic designers bring creativity, technical expertise, and attention to detail to every project. Whether it's designing captivating brochures, creating stunning website graphics, or developing engaging social media visuals, we strive for excellence in every aspect. We pay close attention to typography, color schemes, and layout, ensuring that the visual elements resonate with your audience and leave a lasting impact.
At eMage Promotions, we are passionate about helping businesses thrive through exceptional branding and graphic design. We pride ourselves on delivering outstanding results that elevate your brand's visibility and credibility. Our dedicated team is committed to bringing your vision to life and exceeding your expectations at every step of the process. Let us be your partner in creating a compelling brand presence that sets you apart from the competition.
With our expertise in branding and graphic design, we are poised to transform your business's visual identity into a powerful tool that captures attention, inspires trust, and drives growth.
From conceptualization to implementation, our streamlined approach ensures efficiency and client satisfaction.
Transforming Visions into Digital Reality: Unleashing Unmatched Service and Innovation in Web and Mobile Development.
At eMage Promotions, we take pride in our ability to bring your unique vision to life in the digital realm. With our exceptional service, we go above and beyond to understand your goals and deliver tailor-made solutions that exceed expectations. Our team of dedicated experts combines innovation, creativity, and technical expertise to create captivating web and mobile experiences that drive your success.
Revolutionize your perspective on technology with our transformative solutions.
Frequently Ask Questions.
Learn more about eMage Promotion Graphic Design services through this FAQ, addressing common questions and concerns.